Go inside the global economy with Stephanie Flanders in her new podcast, Stephanomics. Subscribe via Pocket Cast or iTunes.
Mario Draghi nudged the European Central Bank closer to pumping more monetary stimulus into the economy, highlighting that "lingering" risks are strengthening the case for action.
The ECB president said at the institution's annual forum in Sintra, Portugal, that "additional stimulus will be required" if the economic outlook doesn't improve. He said the commitment to keeping interest rates low could be bolstered, further cuts remain "part of our tools," and renewed asset purchases are an option even if that means raising self-imposed limits on how much it can buy.
The euro fell on the comments and was down 0.3% to $1.1185 as of 11:08 a.m. Frankfurt time. German 10-year bonds jumped, pushing the yield to a record-low minus 0.300%. Money markets are pricing in a 10 basis-point ECB rate cut by December.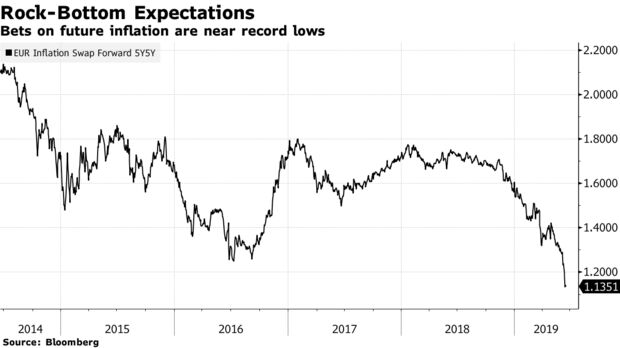 It's the latest dovish comment from the Governing Council, which is grappling with an economic slowdown and an inflation rate that remains entrenched below its goal. Draghi said risks from geopolitical factors, protectionism and vulnerabilities in emerging markets haven't dissipated and are weighing in particular on manufacturing.
Major central banks around the world are already moving back into battle mode as trade tensions hit confidence and damp the global economy. The U.S. Federal Reserve, Bank of England and Bank of Japan all hold policy meetings this week, which should give further insight into their concerns.
Investors are betting on U.S. interest rate cuts later this year, while central banks in Australia, Russia, India and Chile have already loosened policy.
In a sign that discussions on policy action are becoming more formal within the ECB, Draghi said the Governing Council will review in the coming weeks how their tools can be adapted "commensurate to the severity of the risk to price stability."
https://www.bloomberg.com/news/articles/2019-06-18/draghi-says-further-interest-rate-cuts-remain-part-of-ecb-tools-jx1j9wch