Facing pressure from Wall Street and President Donald Trump, Federal Reserve Chairman Jerome Powell and his colleagues may be running out of patience.
The Federal Open Market Committee is likely to hold interest rates steady on Wednesday while opening the door to a cut — by dropping its commitment to being "patient'' in its policy statement, according to Bloomberg survey of economists. The decision will be announced at 2 p.m. and Powell will hold a press conference 30 minutes later.
"It will be a tap dance on the high wire,'' said Steven Skancke, chief economic adviser for Keel Point Capital in Vienna, Virginia. Powell will stress that the economy is still fundamentally strong and moving in the right direction, but that the Fed will remain vigilant for changes that might arise, Skancke said.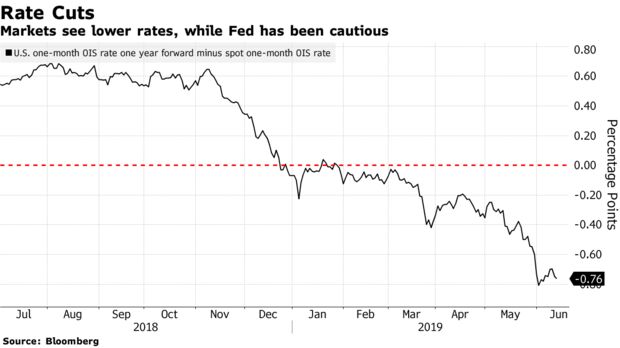 Fed officials face a quandary at this meeting because the economic data has been supportive of their forecasts to hold interest rates steady but risks to the global outlook are growing.
While the FOMC in March projected no change in rates this year, and a quarter-point hike in 2020, markets have ramped up bets on easing and Trump has repeatedly called for a cut. Fed funds futures on Tuesday showed around a quarter point of easing is priced in by the end of July, and more than half a percentage point was indicated by the end of 2019.
Market Disconnect
"The disconnect between the Fed and the market has gotten very big,'' said Ethan Harris, co-head of global economics research at Bank of America Corp. in New York. "They need to open the door part-way to a rate cut. The door is closed right now. They need to create optionality.''
Treasury yields fell Tuesday after European Central Bank President Mario Draghi suggested that more stimulus would be needed if that region's economic outlook doesn't improve. And while signs of a thaw in the fractious U.S.-China relationship helped put a floor under yields, the 10-year rate remained within a few basis points of a 21-month low.
With that back drop, here's what to look out for in the Fed's decision:
https://www.bloomberg.com/news/articles/2019-06-19/fed-seen-signaling-cut-by-losing-patience-decision-day-guide?srnd=economics-vp