Pretty much everyone from farmers in the American grain belt to importers of technology products wants an end to President Donald Trump's trade war with China. For Tore Torvund, who runs a silicon materials manufacturer, however, Trump striking a deal with Beijing has become an existential question. He needs a victory now.
For months Torvund and the 150 or so workers who operate REC Silicon ASA's sprawling tangle of pipes, valves and gravity-fed reactors inside a towering plant have been running at just 25 percent capacity, keeping an eager eye on bilateral trade negotiations that could salvage or doom their operation.
Click here for the latest on U.S.-China trade talks
In that sense the plant in Moses Lake, a farming town in central Washington, is emblematic of how American businesses are on tenterhooks waiting for Trump to strike what may turn out to be the most economically consequential deal of his presidency.
'Without Customers'
If that victory doesn't come in the next few weeks, Torvund has told his board he'll be forced to shut down the plant entirely by May. Competition for the few customers outside China remaining has been intense and led to too many consecutive losses. "We are more or less without customers,'' he said.
To ensure survival of the plant, which on average pays workers $90,000 annually, Torvund needs Trump to re-open a Chinese market that for years has been almost entirely closed to American exports of polysilicon, the raw material used to make solar cells. But the story of REC Silicon is one of both the unintended consequences of trade battles and how China has become a dominant force in sectors like the solar industry.
After the U.S. imposed anti-dumping duties on Chinese solar cells and panels in 2012, Beijing retaliated with a 57 percent tariff on U.S. polysilicon. China is the world's largest market for the material and has ramped up its own production to the point of controlling about two-thirds of global production.
Battery makers have approached REC Silicon about buying the silane gas that it produces as part of the manufacturing process. But to get to that point Torvund needs a China deal to survive the coming months.
REC Silicon is far from alone in eagerly pushing for a resolution to America's trade wars.
Trump and his aides have touted his tariffs on Chinese imports as an economic boon for the U.S., pointing to a resurgence in manufacturing jobs. But for many companies the cost of those duties has been piling up amid higher prices for inputs such as steel as well as lost export markets. In many cases they have led to stalled investments. In some they caused dismissals.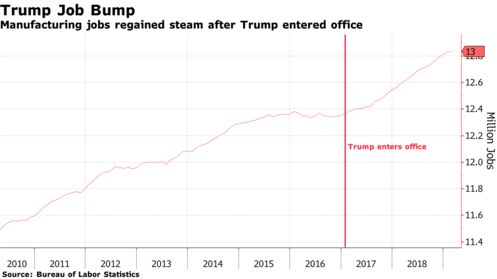 Rufus Yerxa, who leads the National Foreign Trade Council, a business group that lobbies for freer trade, points to what he says are the growing economic costs of Trump's trade actions ranging from his war on China, a renegotiated North American Free Trade Agreement and yearlong tariffs on steel and aluminum.
"You have to look at the big picture of all Trump's actions and threats on trade," he said. "Higher costs for producers and consumers, lost exports and increasing isolation from world markets will not be a great re-election platform'' for Trump in 2020.
Scosche Industries, which employs 150 people in California and 50 in Alabama making and importing accessories for iPhones, car stereos and other consumer technology products, has paid just under $2 million in tariffs so far — about half of its profit last year, co-founder Roger Alves said.
'Holding Our Breath'
The company laid off four employees in November as a result and "we're holding our breath as to when the layoffs should happen again," he said.
The government denied its requests to exclude more than 200 products from tariffs, he said.
Scosche Industries has been forced to stop product developers from designing new goods and it's sending them to Vietnam, the Philippines and other destinations to find new factories, he said.
Paul Shekoski, chief executive officer of the Wisconsin-based Primex Family of Companies, which imports weather monitoring devices it makes in China, has been exploring ways to change the supply chain to avoid tariffs. But he's been reluctant to make a final decision, which could entail moving production to Mexico.
"I don't want to pull the trigger because once I pull it, it's a one-way door,'' Shekoski said.
Shekoski said the duties cost his business 150 percent of what it made last year, and he can probably only afford to wait another quarter before he'll be forced to consider firing workers.
Already, the company has been delaying investment decisions and considering shedding business lines to keep cash flow going, Shekoski said. He's tried everything else he can to avoid the bite of tariffs, including filing requests to receive exclusions that the government ended up denying.
His last hope is that the U.S. and China strike a deal soon. "There will be an agreement," he said. "I just don't know it's going to be in time for us to survive.''
https://www.bloomberg.com/news/articles/2019-04-04/for-u-s-business-trump-s-china-deal-can-t-come-soon-enough?srnd=economics-vp