Federal Reserve Chairman Jerome Powell will have no lack of material to choose from when he kicks off the central bank's annual Jackson Hole symposium Friday with a speech on the challenges for monetary policy.
A deglobalization shock touched off by Donald Trump's trade policy; super low interest rates, including $16.7 trillion in negative-yielding bonds; a never-ending presidential assault on the Fed; and a rising risk of a U.S. and worldwide recession.
"There are all sorts of hazards out there,'' said former International Monetary Fund chief economist Maury Obstfeld, now a senior fellow at the Peterson Institute for International Economics.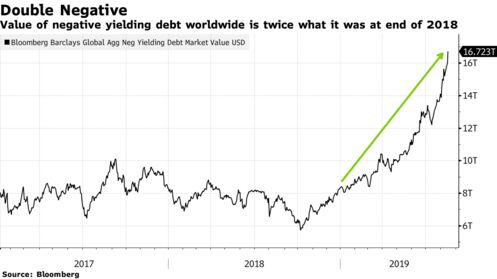 And some of them, including the risk of a hard Brexit and political protests in Hong Kong, lie outside of the U.S. and aren't susceptible to the Fed's influence.
Fed watchers expect Powell to do nothing on Friday to disabuse investors of the widespread perception that the central bank will reduce interest rates by another quarter of a percentage point next month. But whether he'll open the door to a half-point cut, which some traders are looking for, is unclear.
"It's certainly a possibility,'' that the Fed will lower rates by a half point in September, said Bruce Kasman, chief economist at JPMorgan Chase & Co. "But I don't see it. The data don't justify that.''
He puts the chances of a U.S. recession in the next 12 months at 40% to 45%.
https://www.bloomberg.com/news/articles/2019-08-18/powell-likely-to-use-jackson-hole-to-suggest-fed-ready-to-cut?srnd=economics-vp