Former Federal Reserve Chairman Alan Greenspan once remarked that uncertainty is the "defining characteristic'' of monetary policy – and he never had to deal with President Donald Trump.
In a reversal of monetary policy, current Fed chief Jerome Powell on Wednesday opened the door to an interest rate cut as early as next month.
He made clear that uncertainty — primarily about the president's trade battles and their potentially corrosive impact on the U.S. and other economies — was a major factor behind the shift, along with weaker-than-wanted inflation.
"While the baseline outlook remains favorable, the question is whether these uncertainties will continue to weigh on the outlook and thus call for additional monetary policy accommodation,'' he told reporters after the Fed left rates unchanged.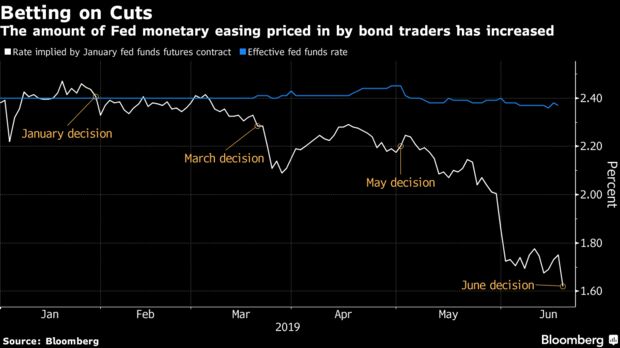 Those uncertainties may not lift any time soon. While Trump is slated to meet Chinese President Xi Jinping later this month at the G-20 summit in Japan to discuss their ongoing trade war, the president's proclivity to abruptly shift his tariff strategy could keep corporate decision makers on edge for a while. It's also put the European Central Bank on alert for a potential easing of its monetary policy.
The trade tensions "are undercutting confidence and that is slowly spreading throughout the economy,'' said Ethan Harris, head of global economics research at Bank of America Merrill Lynch. "The tariff termites are chewing quietly under the surface.''
Trump, for his part, has been far from quiet. He's repeatedly criticized Powell and the Fed for keeping credit too tight and complained that the central bank is undercutting efforts to win his battles with China and other trading partners.
The president asked White House lawyers earlier this year to explore options for removing Powell as Fed chair, and Trump told confidants as recently as Wednesday that he believes he has the authority to replace him, Bloomberg reported this week.
Read more: Trump Believes He Has the Authority to Replace Powell at Fed
Powell, who's vowed to protect the Fed's independence, said on Wednesday that he expects to get a clearer a read on whether the economy needs easier credit "in the very near term.'' He also refused to rule out the possibility of a half percentage point reduction.
https://www.bloomberg.com/news/articles/2019-06-20/powell-opens-door-to-july-rate-cut-amid-trumpian-uncertainty?srnd=economics-vp