There's a lot of weight on the shoulders of shoppers around the world, and the strain is starting to show.
As threats to demand ranging from U.S.-China trade tensions to Brexit hit business confidence and investment, consumers are proving the main drivers of global growth. JPMorgan Chase & Co. reckons global retail sales volumes charged ahead at a rate of 4.8% in the last quarter, buoyed by still-tight labor markets.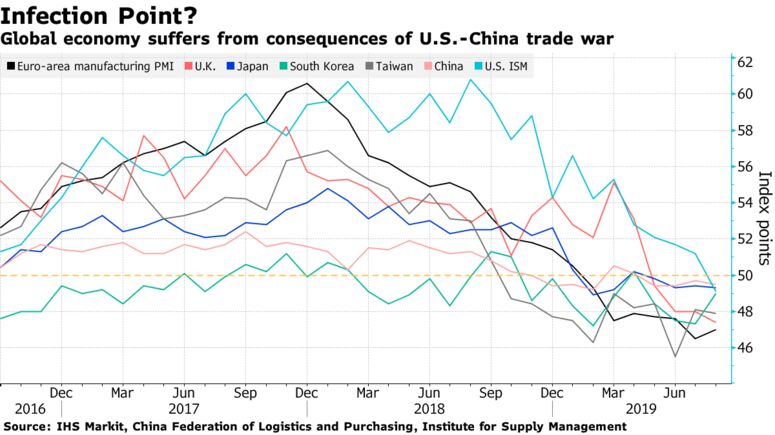 But there are signs that could soon change, as weakness in manufacturingseeps into hiring, and financial markets tighten amid the trade war. Both forces could lead households to retrench, fanning fears that the world economy is heading to recession. Morgan Stanley economists are already warning that American consumers are all that stand in the way of a U.S. contraction.
"It would be misguided to believe that manufacturing weakness is not going to filter through to the rest of the economy," even though factories are a relatively small share of U.S. output, said Gregory Daco, chief U.S. economist at Oxford Economics.
A big warning came last week, when concerns about tariffs and inflation helped push down the University of Michigan U.S. sentiment index by the most in almost seven years.
If that's the start of a new fault line in the global economy centered on consumers, that spells deeper trouble ahead for world growth.
A key risk is an unraveling of the solid labor-market story across advanced economies.
Surveys show employment at factories is falling around the world. Germany, at risk of recession, has seen initial signs of weakness in its labor market, U.K. sentiment is being battered by Brexit uncertainty, and Asian economies such as Korea and Indonesia have recorded declines in consumer sentiment.
In the U.S., a key measure of factory employment from the Institute for Supply Management fell in August to a three-year low, indicating manufacturers are cutting jobs, according to a report Tuesday. Monthly U.S. jobs figures from the Labor Department are due Friday.
https://www.bloomberg.com/news/articles/2019-09-04/trade-war-damage-piles-weight-of-global-economy-onto-consumers?srnd=economics-vp